Telecommunications
The Development Authority's extensive telecommunications network started out as a means of providing broadband access to schools in the North Country, but now the Authority's network has literally connected the region to the rest of the world through more than 1,800 miles of fiber network that stretch across the top part of the state.
The Authority's Open Access Telecom Network (so named because it means any provider can use the network) completed its initial backbone construction in 2003.  It is a carrier-class telecommunications network which connects the region to carrier collocation facilities in Syracuse, Albany and New York City. The network is comprised of approximately 1,800 miles of fiber optic cable and 31 Central Offices (COs), which contain the electronic and optical equipment that power the network.
Staff work in all kinds of weather to ensure the OATN keeps running.
Working in partnership with telecommunications carriers serving Jefferson, Lewis and St. Lawrence counties, the OATN helps power the economic future of the North Country by:
Helping local businesses and institutions become more competitive and grow.
Creating job opportunities.
Making the region attractive to telecommunications-intensive businesses like back office support, publishers, hi-tech industries, or logistic services looking to relocate or expand.
Creating advanced networks for education, health care and government.
Positioning the region for investment in economic development initiatives.
Network Location 
Click to view Central Offices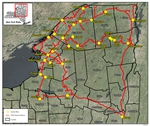 The reliable service and carrier class redundancy that businesses and organizations depend on is facilitated by 31 Central Offices (COs) located throughout the network. The COs allow service providers to connect with local customers and to services outside the region. They are equipped to support any type of national or regional service provider such as Verizon Wireless, AT&T, Slic or Westelcom, and are designed with the flexibility to interface with traditional and advanced service offerings.
System Characteristics 
The Authority's network provides carriers with security and diversity:
Carrier class network reliability;
Offerings that include TDM, Ethernet and wavelength services;
Around-the-clock network monitoring and support;
Redundant connectivity for greater security;
Point-to-point, or ring, configurations;
Fast provisioning times and;
Scaleable network design to accommodate rapid growth and new service offerings as required.
The network is monitored by a comprehensive provisioning and monitoring system based on several tools, including SolarWinds, Ethernet Network Management System, Ethernet Switch Manager, and others. This allows Authority engineers to take immediate action if service is affected.
Telecommunications Services 
The Development Authority of the North Country's telecommunications network is a middle mile network that provides transport services for telecommunications carriers.  In addition, the Authority constructs and operates large private networks for customers that require high-speed connectivity between multiple locations.
The purpose of the middle-mile carrier network is to enable multiple service providers to deliver services to the North Country market.  This fosters competition for telecommunications services in the area, resulting in lower prices and more options for the businesses and residents of the North Country.
The Authority is currently providing transport service for 16 different telecommunications service providers who are using the network to obtain direct access to their customers in order to deliver cost-effective and innovative solutions.
In addition to our service provider customers, the Development Authority also connects many community anchor institutions in the North Country through extensive networks, including:
Two large Telemedicine networks that connect approximately 105 healthcare facilities in the North Country
Education networks linking approximately 70 schools with broadband services
40 libraries through the North Country Library System
Over 150 cell tower back haul circuits to provide services to cell towers
For Telecommunications Services please contact David Wolf, Telecommunications Division Director:  dwolf@danc.org  or (315)-661-3200
The Development Authority's service offerings include:
| | | | | |
| --- | --- | --- | --- | --- |
| Category  | TDM Services  | Ethernet Services  | Wavelength Services  | Private Networks  |
| Description  | Traditional SONET based transport service including DS-1, DS-3, and OC-X service. Multiplexing and cross-connect service also available. | Ethernet transport service including 10 Mbps, 100 Mbps, 1Gbps, and 10 Gbps.  Higher bandwidth available if required. Includes Virtual LAN service. | Offerings include 2.5 Gbps, 10 Gbps and 100 Gbps wavelengths. | Private networks are high-speed networks connecting multiple locations. Examples include FDRHPO telemedicine network, Jeff-Lewis BOCES, and St. Lawrence-Lewis BOCES. |
| Availability  | Throughout the entire network. | Throughout the entire network. | Throughout the entire network. | Private networks are available anywhere and are based on the requirements of each customer. |
To file a complaint with the Department of Public Service please email your complaint to www.dps.ny.gov/complaints (http://www.dps.ny.gov/complaints) or call the DPS HELPLINE (800-342-3377)