Fort Drum Joint Land Use Study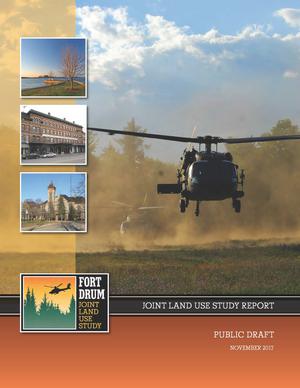 Fort Drum Joint Land Use Study (JLUS) Report
This report is the result of a two-year collaborative stakeholder process between Fort Drum and surrounding communities in Jefferson, Lewis and St. Lawrence counties. The report considers 25 potential encroachment issues that could affect the current and future missions at Fort Drum. The documents provide an overview of the JLUS process, the study area and communities involved in the JLUS, Fort Drum missions and operations, a list of compatibility issues identified through the process, and the Implementation Plan, which includes the recommended strategies identified to address compatibility issues.
The final JLUS is an informational study that contains recommendations. It is not a regulatory document; it is a resource document for land use planning. Implementation of any or all of the recommendations is up to each municipality. The focus of the study is land use that may negatively impact the mission of Fort Drum.
The Development Authority is the Project Sponsor, and the U.S. Department of Defense Office of Economic Adjustment is funding the study.  If you have any questions regarding these documents, please feel free to contact Hartley Bonisteel Schweitzer , Community Planner, or Michelle Capone , Director of Regional Development, at (315) 661-3200.
Final Report Documents
Goals and Objectives of the Fort Drum JLUS
A Joint Land Use Study (JLUS) is a cooperative planning effort conducted as a joint venture between a military installation, surrounding jurisdictions and other stakeholders that looks at the balance between military needs and community needs in the area surrounding the installation. The goal of the Fort Drum JLUS is to reduce potential conflicts between Fort Drum and the surrounding communities while accommodating new growth and economic development, sustaining economic vitality, protecting public health and safety, and protecting the operational missions of Fort Drum. JLUS programs traditionally have three core objectives:

Understanding
Increase communication between the military, local jurisdictions, and other stakeholders to promote an understanding of the strong economic and physical relationship between Fort Drum and its neighbors.
Collaboration
Promote collaborative planning between the military, local jurisdictions, and other stakeholders in order to ensure a consistent approach in addressing compatibility issues.
Actions
Develop and implement strategies for reducing the impacts of existing and future incompatible activities on the community and military operations.
---
---
Technical Working Group
| | |
| --- | --- |
| Frank Pace | Lewis County Planning Office |
| Jason Pfotenhauer | St. Lawrence County Planning Office |
| Andy Nevin | Jefferson County Planning Office |
| Jen Voss | City of Watertown Planning Office |
| Jessica Jenack | Town of LeRay Planning Office |
| Peter Lister | ReEnergy |
| Katie Malinowski | Tug Hill Commission |
| Linda Garrett | Tug Hill Tomorrow Land Trust |
| Peggy Murray | Cornell Cooperative Extension of Lewis County |
| Brian Ashley | Fort Drum Regional Liaison Organization |
| Jenny Briot | Iberdrola Renewable |
| Kristopher Johnson | Fort Drum NEC |
| Jim Miller | Fort Drum Environmental |
| Jason Wagner | Fort Drum Natural Resources |
| Mike Nuckols | Fort Drum Compliance |
| Doug Osborne | Fort Drum GIS |
| Dave Kalynycz | Fort Drum Spectrum Manager |
| Ed Quates | Fort Drum Archeologist |
| Derek Kallen | Fort Drum Airfield |
---
Steering Committee
| | |
| --- | --- |
| Joel Bartlett | Town of Watertown |
| Bruce Ferguson | Town of Champion |
| Paul H. Smith | Town of Wilna |
| Ron Taylor | Town of LeRay |
| John Shaw | Town of Antwerp |
| Cheryl Horton | Town of Philadelphia |
| Scott Allen | Town of Pamelia |
| Gary Eddy | Town of Rutland |
| David Parow | Town of Diana |
| Michael Cappellino | Town of Fowler |
| Harry Turnbull | Town of Rossie |
| Robert Ritchie | Town of Gouverneur |
| Stephen Jennings | City of Watertown |
| Mary Corriveau | Fort Drum Regional Liaison Organization |
| Steve Hunt | Empire State Development |
| Col. Kenneth Harrison | Garrison Commander, Fort Drum |
| Lt. Col. Todd Polk | Fort Drum Planning Analysis and Integration |
| Eric Wagenaar | Deputy to the Garrison Commander, Fort Drum |
| Kurt Hauk | Fort Drum Public Works |
| Julie Halpin | Fort Drum Public Affairs Office |
Documents
Fact Sheet #1 | Overview/Factors
Fact Sheet #2 | Strategy Toolbox
Fort Drum Joint Land Use Study Public Draft Report November 2017 sm.pdf
Fort Drum JLUS Public Draft Background Report November 2017.pdf
---
Meetings
Fort Drum Steering Committee Meeting October 12, 2017
Fort Drum Public Open House #2_2017 10 10b BAC.PDF
Wind Energy Projects in Proximity to Fort Drum [PDF MAP]
JLUS Kick-Off Meeting September 20th, 2016
Public Open Houses #3 Scheduled