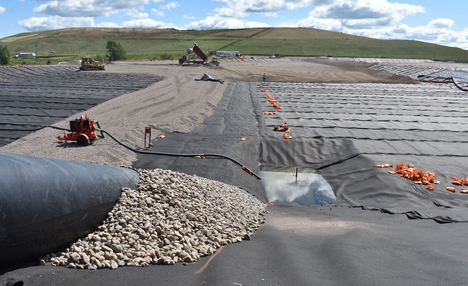 At current usage rates, the landfill is expected to be at capacity in approximately 2027, requiring an expansion in order to continue to provide reliable, environmentally sound disposal services for residents, businesses and institutions in Jefferson, St. Lawrence and Lewis counties, including Fort Drum. The expansion will secure uninterrupted, long-term disposal capacity that is locally controlled, environmentally sound and cost efficient, a critical resource for economic stability and security in the region.
The extensive process for obtaining a permit to expand the landfill began in 2010 and was completed in 2017. The New York State SEQRA (State Environmental Quality Review Act) process was completed and a federal wetlands permit was obtained through the U.S. Army Corps of Engineers. The necessary steps to obtain a New York State Department of Environmental Conservation (DEC) solid waste management facility construction and operation ("Part 360") permit were completed in 2017 and the permit was issued in early 2018. Please see  Archived Documents  to examine associated documents.
The landfill expansion will eventually be approximately 110 acres, adjacent to and directly south and west of its existing waste disposal area. Similar to the existing landfill footprint, the expansion will be comprised of "cells" with two separate liner systems beneath the waste, each containing a soil barrier and a barrier of man-made materials. This double liner system provides primary and secondary leachate collection for the landfill. Leachate is liquid that has come into contact with waste. It is collected and stored onsite temporarily until it is transported to an approved facility for treatment.
The installation of a double composite landfill liner system over low permeability soils, along with a leachate collection and containment system, and an extensive network of groundwater monitoring wells, will ensure protection of groundwater resources. In the many years of operation at the current regional landfill site, the containment system has never been compromised.
The landfill expansion is being implemented in phases. Each cell in the expansion area will be constructed as additional disposal capacity is needed. It is currently anticipated that the expansion will consist of eleven individual and monitored cells. Construction of the first two cells began in 2019 and was complete in 2021. The new landfill cells began accepting selected waste in June, 2022. The estimated life of each new cell ranges from just over one year to slightly over 10 years. Cells will be closed/capped in accordance with New York State DEC standards once they have reached their permitted disposal capacity and waste settlement has subsided.
Access roads, storm water infrastructure, electrical utilities, monitoring wells and a litter fence were also constructed as part of the project.
The project also includes an extensive effort to protect and restore wetlands. Based on the landfill expansion footprint, approximately 12 acres of federally-regulated wetlands will be impacted. As part of the compensatory mitigation plan, hundreds of acres of onsite wetlands and buffer lands will be protected in perpetuity and streams will be enhanced through plantings in their buffer zones. Additionally, the Authority completed a wetland and stream restoration and enhancement project in the same watershed along Skinner Road in the Town of Ellisburg on property owned by the New York State DEC.
To learn more, please see the  Landfill Expansion Questions & Answers.